June 2018 Primary Election information coming in early May!
Now including Senate and Gubernatorial candidates with endorsements, in addition to the standard ballot proposition information and endorsements.
Election 2016!
Results of each ballot proposition can be found on each ballot measure page.
The California November 8th election has a staggering 17 statewide ballot propositions and California Choices is a one-stop-shop for nonpartisan voter information. We have pros and cons of each proposition, a summary of ballot endorsements (see sample below), and in-depth information to enable voters to make an informed decision this Election Day. Click here to view the Endorsements table and click here to view our Archive of past election results.
Important dates:
October 10, 2016: California vote-by-mail period begins, vote-by-mail ballot application here
October 24, 2016: Last day to register to vote, register online here
November 1, 2016: Last day to submit a vote-by-mail ballot
November 8, 2016: Election Day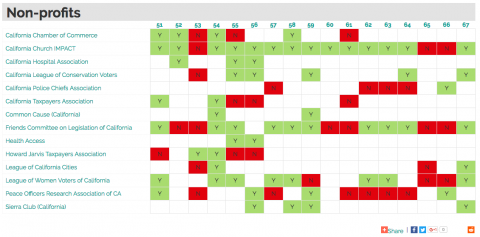 California Choices, a collaborative effort by Next 10 and IGS at UC Berkeley, has been designed to provide a better understanding of the challenges that our state faces and to provide nonpartisan information to educate voters on the statewide ballot initatives included on the California ballot.