Click here to create an account and save your votes.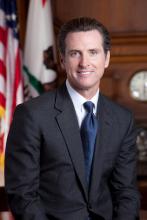 Lieutenant Governor of California
Gavin Newsom is the 49th and current Democratic Lieutenant Governor of California. He was first elected lieutenant governor in 2010, having defeated six challengers in the November 2 general election. He won a second term in office on November 4, 2014.
Before becoming lieutenant governor, Newsom served from 2004 to 2010 as Mayor of San Francisco. He was a member of the San Francisco Board of Supervisors from 1998 to 2004 and sat on the city's Parking and Traffic Commission from 1996 to 1998. Before beginning his political career, he ran PlumpJack, a wine shop that grew into a network of 15 businesses.