Click here to create an account and save your votes.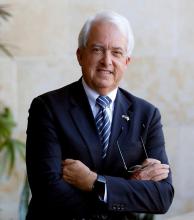 Businessman/Taxpayer Advocate
A native of Chicago, Cox's first involvement with politics was a 1976 run for a delegate position at the Democratic Convention. In 1980, Cox graduated from ITT/Chicago Kent College of Law and began working as an accountant. One year later, Cox founded a law firm and an accounting firm, followed by forays into investment advice, real estate, and venture capital. In 1991, Cox established a local branch of Rebuilding Together, a housing repair nonprofit.
In 2017, John Cox filed the Neighborhood Legislative Districts and Working Groups Initiative. The initiative was designed to restructure the California State Legislature, dividing legislative districts into smaller neighborhood districts. Cox also endorsed the Voter Approval for Gas and Vehicle Taxes Initiative, which was proposed for the 2018 ballot, and he was named the support campaign's honorary co-chairman.