Click here to create an account and save your votes.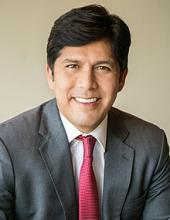 Kevin de León is a Democratic member of the California State Senate, representing the 24th District. He was first elected to the chamber in 2010. De León served as state Senate President pro Tempore from 2014 to 2018. He is unable to run for another term in the California State Senate due to term limits.
De León's professional experience includes working as a senior associate with the National Education Association and working for the One Stop Immigration & Educational Center. He is a member of the Alliance for a Better California and the California Teachers Association.